The topic this week is signal flow and we will explore the following focus areas:
RECORDING | DIGITAL AUDIO | PROCESSING | PLAYBACK
OVERVIEW
RECORDING – Recording is the process of recreating sound energy. The sound energy is captured electronically with a microphone, although sound can also be mechanically captured. The electronic signals are then stored in one of two ways either as analogous or digital copies.   

OVERVIEW
SPECIFICS
EXPLORE
OVERVIEW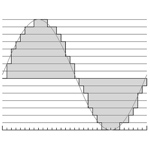 DIGITAL AUDIO -  Audio can be dealt with as an analogous copy of the sound or a quantized digital version.  Two of the most important properties of digital sound are Sample Rate and Bit Depth.  As the capabilities of digital computation expand, these two properties will as well.  Just as certain digital cameras can shoot at extraordinarily high frame rates, giving us images at unprecedented resolutions, so too will digital sound capability provide us with increasingly high fidelity sonic environments.

SPECIFICS
SAMPLE RATE - The sample rate is the number of samples of a sound that are taken per second to represent the event digitally. The more samples that are taken per second, the more accurate the digital representation of the sound can be. For example, the current sample rate for CD-quality audio is 44,100 samples per second. This sample rate can accurately reproduce the audio frequencies up to 20,500 hertz, covering the full range of human hearing.
BIT DEPTH -  The number of bits of information in each sample, and it directly corresponds to the resolution of each sample.  Examples of bit depth include CD Audio, which uses 16 bits per sample, and DVD-Audio and Blu-ray Disc which can support up to 24 bits per sample.   
OVERVIEW
SPECIFICS
EXPLORE
OVERVIEW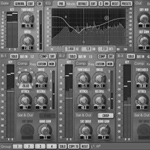 PROCESSING - Processing audio can happen both before and after the actual recording.  Processing as a whole is achieved by sending sound through a physical piece of equipment or software to alter the original sound.  Common processing includes compression, equalization, pitch correction, reverb, etc.
SPECIFICS
BEFORE RECORDER - If processing happens before a recorder in the signal chain, the sound will always be affected by the effect placed on the sound.  Sometimes this is a necessity for recording live music using gate processors on vocal mics to avoid unwanted sound from other instruments on vocal channels and vice versa.
AFTER RECORDING - A more preferred, or non-destructive method of processing audio happens after the raw recording is made.  This way the recorded audio is as close to what the microphone picks up as possible.    
OVERVIEW
SPECIFICS
EXPLORE
OVERVIEW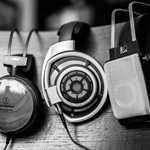 PLAYBACK - Accurate reproduction of sound is critical for every project. The playback portion of the chain is how listeners and viewers experience sonic content. Quality speakers and headphones are crucial for serious listening. 


SPECIFICS
MONOPHONIC - Monaural sound is from a single audio channel.
STEREOPHONIC - Stereo sound comes from two discrete channels, one left and right of the listener.
QUADRAPHONIC - Uses four discrete channels with front and back left and right channels.
SURROUND SOUND - Surround sound immerses a listener in a sonic environment with varying speaker arrangements in front and back, as well as side to side and overhead. Surround sound usually is accompanied by a Low-Frequency Effects(LFE) channel for subwoofer use.