The topic this week is Location Recording and we will explore the following focus areas:
BOOM OPERATIONS | WIRELESS MICS | PORTABLE RECORDERS | ROOM TONE
OVERVIEW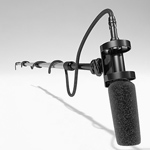 BOOM OPERATIONS - Booms are adjustable segmented poles for mics allowing on-set recordists to capture sound close to the talent while standing out of frame. Due the general hand-held nature on sets, booms allow recordists to adapt mic placement on the fly to get the best possible sound during production.

OVERVIEW
SPECIFICS
EXPLORE
OVERVIEW
WIRELESS MICS - Wireless mics allow sound engineers to record talent from a distance without needing to be physically wired. This can help during wide shots where it is difficult to use a boom or when cabling would be visible in the shot.

SPECIFICS
Lavalier Mics also referred to as lapel mics are very small microphones that can be attached to the talent to capture high quality sound. These small mics can provide great options when recording dialog scenes with multiple actors, keeping each actor on their own channel for the mix.
Wireless handheld mics are utilized in electronic news gathering (ENG) for broadcast journalism applications. These mics allows reporters to be mobile, while not having to deal with cabling, making sports sideline reporting easier and more engaging.
Live sound applications also employ wireless technology. Performers are able to move freely on a stage and allows for theatrics throughout venues. Similar to ENG applications cable management improves as well as routing assistance between monitoring locations.
OVERVIEW
SPECIFICS
EXPLORE
OVERVIEW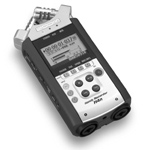 PORTABLE RECORDERS - Portable recorders can turn anyplace into to a mini studio. In the past, large remote trucks were needed to bring the studio on the road. With portable and handheld recorders journalists and sound designers can capture the sounds they need in their natural environments.
SPECIFICS
Dedicated portable recorders provide high quality audio recording equipment in small and handheld applications. Many of these dedicated devices have good mic preamps for recording high quality sound across multiple channels.
Mobile smart phones and other devices can also record sound. Natively these devices are not ideal for professional level sonic fidelity. Many professional audio equipment companies have created attachments and apps allowing theses devices to be used as acceptable alternatives to dedicated recorders.
OVERVIEW
SPECIFICS
DEMONSTRATION
OVERVIEW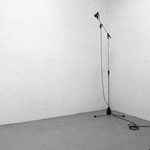 ROOM TONE - Just like a radio commercial may have a music bed, films have audio beds too, called room tone. To the average ear room tone is just silence, but to sound designers it is this subtle base that all sound elements can live on top of in the mix.
SPECIFICS
Room tone is not a tone as in a musical note, or specific frequency, but rather the ambiance of the space.
Every room or location has it's own tone based on its dimensions, physical objects like furniture, carpet, trees, rocks, buildings, etc. During a film shoot there are extra people and equipment that can color this sound and change a room's tone or sonic characteristics.
Usually recorded on set immediately following a scene, the crew stands silent while the recordist takes a pass at capturing the space.
Room tone can be captured quickly, and in a fast-paced on-set environment it is easy to overlook or rush the capturing of room tone. A longer passage of room tone can save hours of editing a shorter snippet together in post production.