The topics this week are Spectrum and Dynamic Effects and we will explore the following focus areas:
EQUALIZERS/FILTERS | COMPRESSORS/LIMITERS | DE-ESSERS | EXPANDERS/NOISE GATES
OVERVIEW
DEMONSTRATION
EXPLORE
OVERVIEW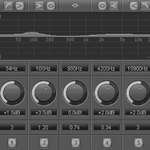 EQUALIZERS AND FILTERS - Equalizers operate on two simple principles to boost or cut frequencies focused around a specific center frequency. Filters operate similarly in that they are focused on specific frequencies, but instead of boosting or cutting gradually, filters attenuate entire bands of frequencies dramatically to allow frequency ranges to pass either above (high-pass) or below (low-pass) the set frequencies.

OVERVIEW
DEMONSTRATION
EXPLORE
OVERVIEW
COMPRESSORS AND LIMITERS - Compressors are used to restrict dynamic range of a sound.  The compressor operates by increasing the output level at a lower rate while the input level increases under a set ratio, threshold,attack and release time.  Limiting is similar, but sets a specific level to where audio signal cannot exceed, commonly referred to as a brick wall.  Both compressors and limiters have gain features to that control either the input or output level of the sound to or from the processor to further control the effect.

OVERVIEW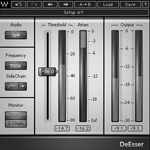 DE-ESSERS - Sometimes built into compressors and voice processors, a De-esser acts as a filter for hissy sounds, mainly originating from speech.  The typical sounds the De-esser handles originate from the consonants s, z, ch, and sh.
OVERVIEW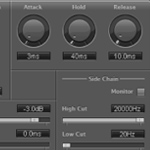 EXPANDERS AND NOISE GATES – Similar to compressors, expanders and noise gates operate in the opposite direction. These processors are triggered when sound falls below a certain threshold. Once the levels fall to the set threshold, expanders raise levels based on input signal in similar, but opposite ratios from a compressor. When a gate is employed, once levels fall below the set threshold, audio is muted.