The topic this week is Digital Production and we will explore the following focus areas:
SYNTHESIZERS | SAMPLING | MIDI | SOUND LIBRARIES
OVERVIEW
HISTORY
DEMONSTRATIONS
EXPLORE
OVERVIEW
SYNTHESIZERS - One of the most important inventions in music history came from a machine that expanded the tonal perspective of musicians and broadened the collective output by providing them with an almost limitless sonic palette.  The music synthesizer, both analog and later digital, ultimately became an integral part of music production in both studio and live performance.

OVERVIEW
SPECIFICS
EXPLORE
OVERVIEW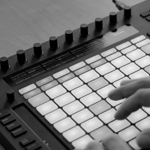 MIDI - Musical Instrument Digital Interface is a multifaceted communication protocol which is integrated in most modern digital audio equipment.  MIDI controls audio consoles as well as electronic musical instruments.  The standard was originally developed in 1982 as means of connecting keyboards to computers. Currently devices are able to make connections through the traditional 5-pin MIDI plug, USB, FireWire and Ethernet.

SPECIFICS
Excerpt from the MIDI Manufacturers Association: An Introduction to MIDI (pdf)
Note On/Off Messages: When you begin to play a note on a MIDI controller, a note-on message is sent to the receiving MIDI device, which starts playing the note. When you stop playing the note on the controller, a note-off message is transmitted and the receiving device stops sounding the note.
Velocity: The force with which you play a note on the controller is measured as the speed, or "velocity," with which you play the note. When you play a note, a velocity value representing the force with which you played the note is transmitted to the receiving device along with the note's note-on message.
Pitch Bend: These messages instruct a MIDI device to raise or lower the played note's pitch. Pitch bend messages are usually transmitted by moving a pitch bend/modulation lever or pitch bend wheel at the left of a keyboard controller, though they can be transmitted from any knob, button, or joystick programmed to do so. String-bending on a guitar controller can also generate pitch bend messages
OVERVIEW
SPECIFICS
EXPLORE
OVERVIEW
SAMPLING - A sometimes controversial process in popular music, the process of sampling utilizes digital equipment and software to store and playback any sound that could be pre-recorded or synthesized.  Usually performed with a  sampler,  artists are able to connect the sound to a key to able to play back the sound in a composition.
SPECIFICS
Sampler - Usually keyboard based is a piece of equipment that stores digital files for playback when a key is pressed or trigger is activated.
Sequencer -  Since samplers are able to manipulate time, pitch, and other attributes of a sound, the sequencer is in place to store time data that controls the sampler. 
OVERVIEW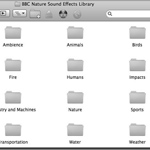 SOUND LIBRARIES - Pre-recorded sound collections that can be purchased for the use of placing individual or a series of sounds in a production.  The benefits include being able to have thousands of sounds at the designers fingertips in post production.  Unfortunately many different designers may be using the same library, which can make the sound in a piece be perceived as inauthentic due to overuse of a sound.